A little background information about Nicodemus: Former enslaved African Americans left Kentucky in organized colonies at the end of the of post-Civil War Reconstruction period to experience freedom on the free soils of Kansas. Nicodemus represents the involvement of African Americans in the western expansion and settlement of the Great Plains. It is the oldest and only remaining all Black Town west of the Mississippi River.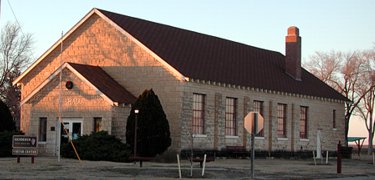 While at the Nicodemus NHS, Jacob (aka Buggywasher) participated in the
Junior Ranger Program
. You may ask what is a Junior Ranger? Well, according to the National Park Service, a Junior Ranger is an explorer, a learner, and a protector of National Parks. Junior Rangers complete a series of activities and share their answers with a park ranger. At the end of the activities, the Junior Ranger receives a badge and a certificate. It's a pretty cool program. This is the 2nd one Jacob has done and he really has enjoyed it.
Jacob hard at work!
Jacob is an official Nicodemus Junior Ranger!
While we were at Nicodemus, Jacob and Jeff were able to use their National Park Passport. For Christmas last year, my mum got Jacob and Jeff National Park Passports. Each book contains information about our National Parks with a place for National Park stickers and stamps. Each National Park has a cancellation stamp for you to put in your book. Jacob and Jeff were able to stamp their books while at Nicodemus!